Save up to 60% on luxury hotels and holidays.
Access and book our deals using just your email
The Glasshouse
Edinburgh, Scotland
The Glasshouse
Edinburgh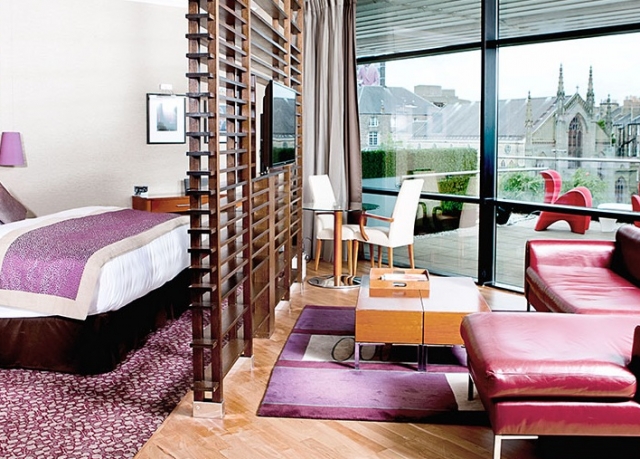 Studio suite
Studio suite
Studio suite
Edinburgh
An award-winning stay with stand-out architectural design and a roof garden, including breakfast
A luxury, five-star boutique hotel with a two-acre roof garden in central Edinburgh - includes a studio suite and breakfast
Voted one of the 'Top 50 Hottest Hotels in the World' by Condé Nast Traveller and 'The Sexiest Hotel in Scotland' by Hotel Review Scotland, this hotel is one for cool hunters. Situated on Greenside Place overlooking picturesque Calton Hill, The Glasshouse is as well-located as it is well-dressed.

Modern architecture cleverly juxtaposes with the 160-year-old facade of Lady Glenorchy church, offering floor-to-ceiling views over this beautiful city, with its dramatic landscape and historic architecture. A peaceful boutique hotel with in-room à la carte dining, this stylish urban retreat wows with its enormous roof garden and high-tech rooms.




We like
The far-reaching views over Edinburgh
The roaring fireplace and cheek-rosying whisky in The Snug
The contrast of Gothic architecture and modern design

Second opinion
For more information on the hotel, please visit their website
Read reviews from previous guests on TripAdvisor
Compare our rates with those available elsewhere online, starting with Booking.com